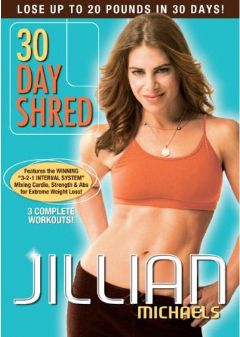 I did the Shred today. I think the last time I did it was 2 years ago so I knew what I was getting into but maybe I also forgot a little bit. It's 25 minutes of hell. I was dying. And that is only level one.
So I came to the realization that on the Biggest Loser... they have to be doing A LOT of editing to make sure the entire episode isn't filled with bleeps! I get it, it's a family show, but it was while I was on my 20th swear word that I realized that you never hear them swearing on the show. And there is no way they don't.
I did do 45 minutes on the elliptical after that. If I can lose weight chugging away on the elliptical, why would I torture myself with that stupid video? Ok, ok, I may do it again later in the week, but 2x a week will probably be my max. Has anyone done this for 30 days? My hat's off to you.
On to a little food logging...
For breakfast, I made my first smoothie in a long time! I put in a yogurt cup, an orange, a banana, some ice and Splenda. (2 pts)
For lunch, I made a tuna melt. I mixed a can of tuna (2 pts) with mustard, chopped up tomatoes and pickles. I had it on a sandwich thin (3 pts) and some reduced fat cheese (2 pts). It was really good!
Later for a snack, I had pretzels (3 pts) and 2 tbsp of cheese dip (1 pt).
Dinner was a marinated salmon fillet (9 pts... why is salmon so much?), a cup of rice pilaf (6 pts).. and raw carrots because I realized I hadn't had many veggies.
I've been reading a lot of other blogs recently and am getting a lot of inspiration from all of you! I'm really glad I started blogging. It's only been a week, but it's been helpful. Here's to a great, successful week everyone!