First, thanks for all the comments on drinking water! I really appreciate all the advice. I drank a lot of water today! I think I had like 6 glasses at least, which is so much for me. I will be drinking at least 100 ounces every day the rest of the week and hopefully that'll show up on the scale on Sunday!
And about the Diet Coke... (I got called out a little bit for that) I know, it's bad... but I love it. I need to break up with it... it's the classic bad for you thing you just love and can't let go.... No, seriously, I appreciate the comments, very eye opening! I didn't have any today and will be cutting it out!

Here's my food for the day :)

Breakfast was a banana and Boston Cream Pie yogurt. (3 pts)

Morning snack was a Hungry Girl
chocolate brownie muffin
(5 pts)
Lunch was a super healthy 3 pointer.. turkey rolls with Laughing Cow cheese wedges in the middle (one swiss and one sundried tomato basil), pickles and a pear. Not to brag, but I get an A+ for this one.
An afternoon snack was Butternut Squash fries for 0 pts. Yum!
Dinner was a cup of chicken fried rice (from a frozen thingy, 8 pts) and an asian inspired orange roughy (which I only ate half of for 4 pts)
Dessert was a Skinny cow vanilla fudgsicle, yum! (3 pts)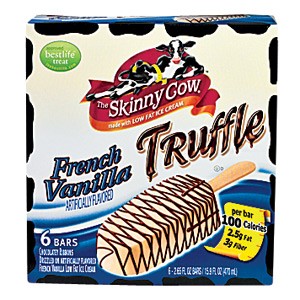 Thanks everyone for the encouragement/ advice, I am so happy to be connected to others who are losing weight and learning from all of you!!